Skip to Content
Discover the new Ajusto Program
See what the Ajusto program can do for you now!
Get rewarded for your good driving habits after only 100 days1 of trip analysis. You're insured with us? You could get a discount on your auto insurance premium!
How does Ajusto work?
The Ajusto® program provides you with personalized feedback on how you drive. It's simple. Download the Desjardins Insurance Home-Auto app, activate the Ajusto section and you're on your way to potential savings!
By adopting safer driving habits, you could get savings on your car insurance premium. After only 5 trips, you get a first score based on these criteria:
Speed
Fast acceleration
Hard braking
Cell phone distractions
Most car accidents are caused by speeding and distracted driving. We launched the Ajusto program to improve road safety and reward good drivers!
How is my score calculated?
You'll get a score based on all of your driving habits.
Speed, fast acceleration, hard braking and cell phone distractions are factored into your score. So are the distance you drive, your time in the car, and your daily routine.
View your trip details to see your trip rating out of 3 stars and any related driving events. You'll also get personalized tips so you can improve your driving.
To get your final score, you need to complete 100 days of trips AND drive 1,000 km. Your final score is calculated at the end of this analysis period. If you're eligible for a discount, it will be applied to your auto insurance premium right away.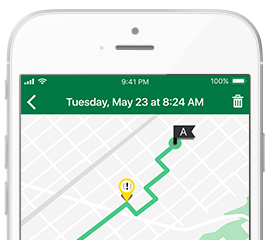 Your driving habits: the key to your success!
Great driving habits are at the heart of the Ajusto program. Let's see what kind of driver you are!
Feather-Feet
Are you an ace at respecting the speed limit, because you know it's there for road safety? Then you're a Feather-Feet driver!
Adopting this driving habit really pays off: you avoid driving convictions and demerit points and you help make our roads safer!

Do you start to sweat when you see a speed radar? Have you lost demerit points for speeding in the past? Try reducing your speed to increase your chances of getting a discount with the Ajusto
Steady Eddie
Do you plan your trips to perfection to avoid rushing and having to accelerate to catch a light? Then you're a Steady Eddie!
This is a great habit to save on gas and reduce the risk of accidents.

Do you sink right into your seat when you zip out of your driveway? Try accelerating more slowly to increase your chances of getting a discount with the Ajusto program.
Anticipator
Are you a defensive driver who's always on the lookout for other drivers on the road? Then you're an Anticipator!
Keeping a safe distance between your vehicle and the one ahead gives you more time to react and helps you avoid sudden braking.

Does your nose come a little too close to the steering wheel when you brake? Give yourself more time to slow down and increase your chances of getting a discount with the Ajusto program.
Smooth Operator
Do you usually take a corner at the posted speed? Then you're a Smooth Operator!
It means you can drive like a pro and avoid skidding and losing control.
Do your grocery bags spill when you take a corner? Try slowing down to a safe speed before you reach the corner to increase your chances of getting a discount with the Ajusto program.
To improve one or more of these habits, use our medals to challenge yourself and improve your driving! Try to combine the Feather-Feet, Steady Eddie, Anticipator and Smooth Operator medals to see your score increase!
Once is not a pattern!
What happens if you have to brake suddenly for an ambulance or if another driver cuts you off?
Don't worry: one-offs won't affect your score. Desjardins Insurance calculates your score based on an overall picture of your driving, and not on a single event.
How can I sign up for the Ajusto program?
Registration for Ajusto is temporarily suspended.
The program will come back in 2021.
Stay tuned!
Certain conditions, limitations and exclusions may apply.
Ajusto is underwritten by Desjardins Insurance which refers to Desjardins General Insurance Inc. in Quebec and to Certas Direct Insurance Company in Ontario.
® Ajusto is a registered trademark of Desjardins General Insurance Inc., used under licence.
1. Users who sign up for Ajusto must drive at least 1,000 km during the mandatory 100-day usage period.
The discount does not apply to certain endorsements and additional coverages. Subject to the Terms and Conditions of the Ajusto Program in effect on the date of your enrollment.