Skip to Content
Important
We're receiving a very high number of calls right now
To avoid the wait, you can file a claim, update your insurance and much more in your Online Services account.
null
null
5 questions to help you shop for car insurance
How do you choose your car insurance? How can you save the most on your policy? How do you know that you're getting the right coverage? You'll find answers to these questions and more in this article to help you determine the best coverage for you.
In this article:
How to choose the right car insurance coverage
How to understand your insurance policy
How to save on your car insurance
How to make a claim for an accident or loss
How to avoid a premium increase after a claim
How to choose the right car insurance coverage
First, you need to start by asking the right questions:
Are you considered a higher risk driver?
Is your vehicle also considered a higher risk?
Do you have a good driving record?
It's important to know your driver profile and what criteria insurance companies use to assess your file. There's a product out there that meets your needs. You just need to determine what your needs are and talk about them with your insurance agent.
For example, the premium for a 19-year-old student who owns a 2003 Honda Civic won't be the same as that of a thirty-something mom with two vehicles on her policy. And their insurance needs won't be the same either.
Did you know that civil liability insurance, a mandatory coverage, protects you in the event you cause damage to someone else? If you hit a fence, a house or any other property belonging to someone else, you'll be covered for this type of damage. Other standard protections are also available to cover damage caused to your own vehicle, such as collision and upset and all perils other than collision or upset.
You can also choose optional coverages depending on your situation and the type of car you have.
Ask yourself the following questions to help you determine the extra coverage that's right for you.
Did you buy or lease your vehicle?
How old is the vehicle?
Is it your only mode of transportation?
Do you often rent a car?
What kind of items do you keep in your car (sports equipment, office equipment, etc.)?
How to understand your insurance policy
A typical car insurance policy comes in two parts: Section A and Section B.
Section A: civil liability
In Quebec, all car owners must have Section A coverage. This is liability insurance that protects you if you injure someone or damage their property. Under the Quebec Automobile Insurance Act, you must carry at least $50,000 of liability insurance; however, most people opt for $1 million or more. If you travel frequently outside your province or to the United States, it's a good idea to increase your liability coverage to $2 million.
Section B: protection against damage to your insured vehicle
Section B is optional coverage that can be added to your policy to protect your vehicle from damage.
Most car insurance policies can offer you bumper-to-bumper protection, but that obviously comes at a price. Talk to your insurance agent about personalizing your Section B coverage to make sure it meets your needs. Protection against damage to insured vehicles is divided into two very separate parts: Sections B2 and B3.
Section B2, collision and upset, protects you against damage to your vehicle, in particular repair costs, in the following situations:
Rollover
Collision between your insured vehicle and a person or animal
At-fault accident
Hit-and-run
Section B3, all perils other than collision or upset, supplements Section B2. It offers coverage against all loss or damage caused to your vehicle in situations other than collisions and upsets. You'll therefore be protected in the following situations:
Fire or explosion
Theft or attempted theft
Damage caused by severe weather
Damage caused by riot or civil disturbance
Vandalism
Damage caused by falling or flying objects
Glass breakage
Note that if you choose to add Section B2 to your insurance policy, you must also add Section B3. However, it is possible to get Section B3 coverage without having Section B2 coverage.
These coverages are offered by most insurance companies, but there are also other optional coverages and endorsements, like replacement cost for your car or the option of getting a replacement vehicle while your vehicle is being repaired after an accident. There are a wide range of coverages available to meet your needs. If you want to know more, just ask!
Be aware, too, that policies have exclusions, which will vary from one insurer to another. The most frequent exclusions related to accidental flat tires. That's because a typical car insurance policy won't cover normal wear and tear and damage cause by the owner.
Tip: When you're shopping for insurance, make sure you're comparing apples with apples! If you're comparing prices, you have to make sure the policies are offering the same coverage!
How to save on your car insurance
What affects your insurance premium?
To calculate your premium, an insurer will look at a number of factors, including:
The model and age of your vehicle
Your annual mileage and daily commute
Where you live
Your age and sex
Your driving record (how long you've been driving, any traffic violations and claims)
Ways you can save
There's no getting around it—if you drive a car, you need insurance. It can be a big expense, but here are some ways to help reduce the cost:
Bundle all your policies (home, auto, etc.) with the same insurer
Increase your deductible (the amount you will have to pay in the event of a claim)
Chooses a vehicle that's less popular with thieves
Insure all your vehicles on the same policy
Have a car alarm installed
Drive an eco-friendly car
Drive carefully and avoid getting traffic violations
There are several options that can help you pay less on your car insurance, and also help you drive with greater peace of mind.
Tip: Planning on storing your car away to protect it from the winter? Make sure you tell your insurer! They can offer you the QEF-16 endorsement, which gives you an immediate credit on your insurance premium. If you're already a client, you can do it directly with Desjardins Insurance's Online Services.
What is usage-based auto insurance?
Of course, having a spotless driving record is an important factor if you want to save on your insurance. Depending on your driving habits, usage-based auto insurance may help you lower your premium. It uses technology that has only been in Canada for a year years.
This technology, telematics, allows insurers to better evaluate your driving and how risky it is. You benefit by getting a personalized insurance rate based on your driving habits, but you also get feedback on your driving, which can help you become a better driver.
Tip: If you're interested in telematics, AjustoTM, is a free program offered by Desjardins to policyholders. With Ajusto, you get a driving score for each trip. Your score is calculated based on four criteria: driving smoothness (which includes fast acceleration, hard breaking and hard cornering), your speed, time of day and distance travelled. Depending on the results, you may get a discount on your car insurance premium.
Are you a young driver?
It's true that premiums are generally higher for young drivers, but it's worth shopping around and asking your insurer how you can save. Some insurance companies offer discounts for young drivers. Talk to your insurance agent.
How to make a claim for an accident or loss
Having to make a car insurance claim is never fun, but it happens to the best of us! Filing a claim is pretty simple, but you should know that there's a difference between reporting a loss and making a claim. In fact, you're contractually obliged to tell your insurer about any loss that involves your car. On the other hand, you are not obligated to make a claim for it.
You might need to make a claim for:
Glass breakage
A collision
Fire, theft or vandalism
Natural disaster
An accident involving your liability
Any other event that damages your vehicle
The claim process for each of these situations may vary slightly from one insurer to the next, but as a general rule, this is what to expect:
You file an insurance claim (online or by phone)
Your insurer assesses the damage
Your insurer analyzes your claim and determines the extent of your insurance and each driver's percentage of fault for the accident, where applicable
You get the vehicle repaired
You pay the deductible and your insurer covers the cost of the repairs
If you have a car accident, take down the name of the other people involved (as it appears on their driver's licence), their address, driver's licence number, registration plate, insurance company and policy number. Just remember to first take care of anyone who's injured! If necessary, call for emergency service—your insurance claim can wait!
Also remember that you're not obligated to make a claim. To help you decide, look over your insurance policy to find out what's covered and talk to your insurance agent.
How to avoid a premium increase after a claim
You might have to make a claim one day, but can you avoid the premium hike that follows? Statistics show that after one claim, the risk of a second incident is higher. That's why your car insurance premium is likely to go up after a claim. But it's worth knowing that insurers calculate risk based on where you live, the type of vehicle you drive and your driving record to determine your premium. Your claims history is the last factor that's calculated.
Also, it's the number of claims that will make your premium vary. However, there are ways of protecting yourself against premium increases. For example, you can add an optional coverage like Accident-Free Protection to your car insurance policy.
In conclusion
It can be intimidating to shop for car insurance, but a little knowledge can make this task a lot easier. By communicating with your insurance agent, you can compare quotes more easily to make the right decision. If you're already a client of Desjardins Insurance, you can also compare premiums for different vehicles by visiting Online Services. Get informed, shop around and know your needs so you're only paying for the coverage you need.
5 questions to help you shop for car insurance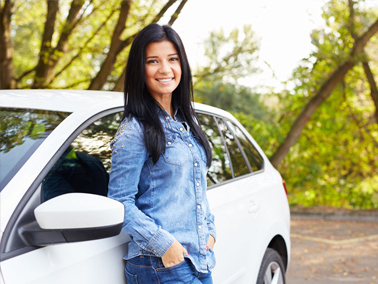 January 10, 2018
Car insurance is like your first aid kit—you have to have one, but hope you'll never have to use it. Every driver in Canada has to have insurance, and it represents a major cost for many households. That's why you need to know how to shop for it.
These tips are provided for information and prevention purposes only. They are general in nature, and Desjardins Insurance cannot be held liable for them. We recommend using caution and consulting an expert for comprehensive, tailored advice.
In Quebec, Desjardins Insurance refers to Desjardins General Insurance Inc. In Ontario and Alberta, Desjardins Insurance refers to Certas Direct Insurance Company, underwriter of automobile and property insurance.