Skip to Content
Important
We're receiving a very high number of calls right now
To avoid the wait, you can file a claim, update your insurance and much more in your Online Services account.
null
null
5 Tax Season Tips to Help Save Money and Time
Not to mention, worrying about the amount of money you have to pay in taxes. To help ease the process, read these tax season tips to help you save money and time.
1. Use a Tax Software Program
A tax software program can help reduce stress while you file your taxes. These programs usually will require you to answer questions to ensure you are applying for any possible relevant credits. If math isn't your strong suit, the programs can help you calculate while avoiding errors. Using a tax software program will help save money because you won't have to hire an accountant. Unless, you have a complicated tax life such as being a business owner, it might be worth it to hire a professional.
2. Make an RRSP Contribution
Making a contribution to your Registered Retirement Savings Plan (RRSP) can not only help with retirement but can be deducted to reduce taxable income, lowering the amount of tax you have to pay. Just remember, there are certain limits to how much can be contributed each year as well as a deadline to meet. For more information about RRSPs, visit the Government of Canada Revenue Agency Services page.
3. Claim Eligible Medical Expenses
Claiming eligible medical expenses such as prescription drugs, eyeglasses, health-related home renovations, dental work and even purchasing gluten-free bread can help save money. Have a look at your receipts to see what you are eligible for. Medical expenses can also be claimed by a spouse or partner.
4. Employee Tax-Free Benefits
Some companies may offer tax-free perks such as moving costs, personal counselling, employer-paid courses, employee gifts and pension contributions. For more information on employee tax-free benefits and an extensive list of taxable items, you can visit the Government of Canada Revenue Agency Service's Benefits and Allowances alphabetical index page.
If you are self-employed, you could possibly be qualified to claim a deduction to what part of your home you work out of. If you are a homeowner, you can claim a portion of your mortgage interest, property taxes and capital cost allowance equal to the percentage of your home that is used for work purposes. If you are a renter, you can claim a portion of your monthly rate.
5. Meet the Due Date
Lastly, this tax season tip will help you save money, time and stress. Make sure to file your taxes before the deadline. This way you can possibly avoid costly errors and interest. If you don't file after the due date, the Canada Revenue Agency (CRA) can charge a late-filing penalty and daily interest charges.
If you like saving money on your taxes, learn how you can save money on your insurance. Get a quote from Desjardins and find coverage that's right for you.
Related Posts
Tips for Paying Off Student Loans Faster
5 Tax Season Tips to Help Save Money and Time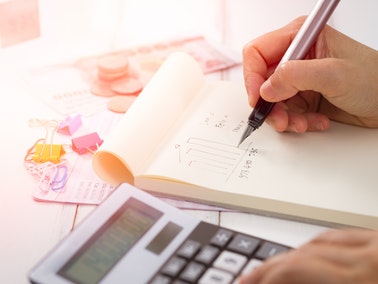 March 05, 2019
It's tax time! Filing taxes can be hectic and stressful. Between gathering the information you need for the tax return, capturing transactions and meeting deadlines, it can take a toll on your emotional and mental state.
These tips are provided for information and prevention purposes only. They are general in nature, and Desjardins Insurance cannot be held liable for them. We recommend using caution and consulting an expert for comprehensive, tailored advice.
In Quebec, Desjardins Insurance refers to Desjardins General Insurance Inc. In Ontario and Alberta, Desjardins Insurance refers to Certas Direct Insurance Company, underwriter of automobile and property insurance.