Skip to Content
Update
System update: This Saturday at 8:30 PM until Monday morning (Eastern Time)
Get a quote, update your insurance or file a claim online before or after this time period. You can call us if needed during business hours. 
null
null
6 Successful Garage Sale Tips for the Whole Family
1. Create a spreadsheet
Before starting the garage sale, create a colour-coded spreadsheet with all family members participating in the garage sale, particular items they are planning to sell and the price of the item. This spreadsheet can come in handy at the end of the multi-family garage sale when you are determining the amount of money each participant earned. There are many templates available online you can use to help keep organized.
2. Watch for the weather forecast
Deciding what day to host your garage sale is one of the most important tasks. Most people traditionally have their garage sale on the weekends. It is generally a wise idea to plan to have a garage sale on Saturday and leave Sunday as a backup day in case it rains. If it is supposed to be quite hot and humid that day, make sure you wear sunscreen and a hat as you will be outside for most of the day. Keep hydrated with water and feel free to offer some cool refreshments for potential customers as well. To involve your children in the garage sale, you could have them hand out cups of water or water bottles.
3. Advertise
Now that you have decided on the date, rain date and time of the garage sale you can start advertising. Help your children create bright and eye-catching signs for the sale. Though before hanging up any signs, double check the rules on advertising for garage sales in your city. You can also go digital and announce on your social media platforms you will be having a garage sale and include pictures of a few select items. This will give your followers a sneak peek of what they can find at the sale.
4. Preparation
Start setting up for the garage sale as soon as you can in the morning. This way you will be prepared for the early birds who like to scout out garage sales before 8:00 a.m. Make sure all the items are in their proper places and tables. Include stickers and signs on each table for customers to identify how much each item will cost. Be sure to have cash and coins on hand for customers who may hand you a bigger bill. Consider wearing a fanny pack, crossbody bag or an apron with pockets to keep money, a calculator or a smartphone with you at all times. This way you will be able to approach customers or answer questions, without leaving a cash box unattended.
5. Eye-catching displays
A productive garage sale tip is to make sure the merchandise is displayed in an organized and alluring manner. Group similar items together, for instance, kitchen items on one table, children's toys on another, and so forth. This set up can make it for easier potential customers to find what they are looking for. Do not simply leave items in cardboard boxes and have the customers dig through them. If you plan to sell any clothing, hang them up on a clothesline or portable clothing rack as it's a better way for potential buyers to see what the clothes really look like and to help prevent wrinkles. Take the time to display items thoughtfully and you will most likely reap the rewards.
6. A helping hand
With a multi-family garage sale, there are plenty of helpers available. Make sure everyone has a part to play whether it's setting up or take down duties, talking to customers or handing out snacks and refreshments. With more hands on deck, you can take a break knowing someone has got the sale covered. Having a garage sale can help your children declutter as well as teach them the value of money and hard work. Although if your children are too young, you can ask a family member or neighbour to keep an eye on them during the sale or have them stay at a relative's house for the day.
Along with these helpful garage sale tips, check the rules of having a garage sale from your municipality or neighbourhood homeowners association. Be courteous to your neighbours as well so they know to expect high-volume activity on the street.
Related posts
Volunteering Feeds Your Spirit
6 Successful Garage Sale Tips for the Whole Family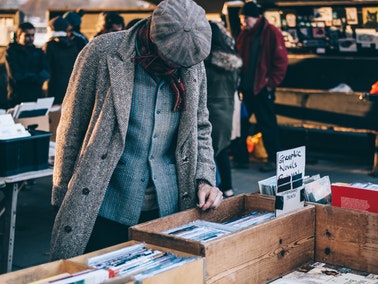 May 29, 2018
Looking for a way to declutter your home? Have a garage sale! Garage sales are a strategic way to get rid of unwanted and unused items in your home and earn some money. Though before you start creating signs, read these garage sale tips to ensure a successful sale.
These tips are provided for information and prevention purposes only. They are general in nature, and Desjardins Insurance cannot be held liable for them. We recommend using caution and consulting an expert for comprehensive, tailored advice.
In Quebec, Desjardins Insurance refers to Desjardins General Insurance Inc. In Ontario and Alberta, Desjardins Insurance refers to Certas Direct Insurance Company, underwriter of automobile and property insurance.