Skip to Content
Important
We're receiving a very high number of calls right now
To avoid the wait, you can file a claim, update your insurance and much more in your Online Services account.
null
null
7 Winter Car Accessories to Help Keep You Warm and Safe
While you may already have a car emergency kit in your vehicle with provisions such as a flashlight and non-perishable food, sometimes your car needs a little extra warmth to make it through those unforgiving winter conditions.
To keep yourself and your car warm, while running optimally this winter, consider adding these 7 winter car accessories to your collection:
1. A Proper Snow Shovel
You undoubtedly have a shovel (or several) to help you clear your driveway and sidewalk during those winter days. But do you have a shovel specifically dedicated to your vehicle?
Packing a shovel in your car will prove invaluable if you're ever stuck in a snowbank, or have to dig your car out of a ditch during a snowstorm. To save space in your vehicle, you can opt for a mini or collapsible shovel that will fit easily in your cargo area.
2. Heated Steering Wheel Covers
There's nothing quite as annoying as having to use your frozen steering wheel with your frozen hands! And while a high-quality pair of leather driving gloves could do the trick, for around the same price, you can warm up your whole steering wheel – without compromising your own dexterity – with a heated steering wheel cover.
Heated steering wheel covers can be purchased at online retailers such as Amazon, and come in various sizes and colours, so you can find one that fits your specific car model.
3. An Ice Scraper
White, fluffy snow is not the only winter weather phenomenon that Canadian drivers need to contend with. Wintertime also means bouts of freezing rain, which make for dangerous driving circumstances – and cars encrusted with ice.
That's why having an ice scraper in your car is a must. Arguably the most used tool by winter drivers, a quality ice scraper allows you to clear snow and stubborn ice off of your windshield, roof, and other areas of your vehicle before you set off on the road. Not brushing off your car is a big winter driving mistake – not only is it dangerous to you and your passengers, it's also a hazard to the cars behind you due to snow and ice that may fall from your roof.
4. Heated Car Seat Covers
If you've ever hopped into a car after it's been parked outside on a chilly winter day, you know how cold those car seats can get – especially leather or vinyl varieties. You can blast the heat and wait for it to take effect, or you can help take the chill out of getting in your car after a cold blast, by installing heated seat covers.
A budget-friendly alternative to more expensive built-in heated seats, heated car seat covers are available at most automotive stores.
5. Remote Car Starter
Another solution to the cold car conundrum is to have it fired up and toasty warm before you jump inside. One way to accomplish this is with a remote car starter, which allows you to start your car from the comfort of the warm indoors, before you even step outside – giving your vehicle time to warm up before your departure. These days, many remote car starters can be controlled from your smartphone, so there's no extra gadgets you'll need to get the job done. The beauty of modern technology!
6. Extra Warm Clothing and a Blanket
Packing extra warm clothing and a warm blanket in your car during winter is self-explanatory! Not only is it a great way to save on heating costs in your home, bundling up with extra warm layers and comfy blankets can also prove vital in a winter roadside emergency. If you're stuck on the side of the road with a broken-down vehicle in the dead of winter, extra clothing in the form of fleece sweaters, long-sleeve shirts, wool socks, and long johns could prove the difference between staying safe and warm until help arrives, or getting nasty frostbite or even hypothermia.
Pack a set of hand warmers along with the warm clothes and blanket for some extra heat – just open the package and hold the warmers in your hands for a couple minutes to help keep your hands warm.
7. A Car Emergency Kit
One of the most important items to keep in your car at all times, year-round, a car emergency kit will prove invaluable in emergency situations.
Just as you keep a Home Emergency Preparedness Kit in your house, so too should you pack an emergency kit in your car, filled with the essentials needed to stay safe and warm during a roadside emergency.
Don't have an emergency kit, and don't want to spend a fortune on a store-bought pre-assembled one? Use our checklist to find out what you should keep in your car emergency kit, so you're prepared when things don't go exactly as planned.
Related posts
Snow Safety: Winter Driving Tips
Winter Car Maintenance: How to Take Care of Your Vehicle
7 Winter Car Accessories to Help Keep You Warm and Safe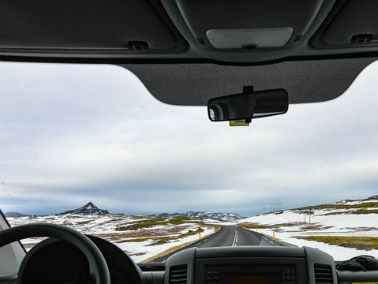 February 19, 2019
Winter driving can be tricky, no matter your level of experience. From slippery, ice-covered roads to mid-winter snowstorms, and of course – the cold – it seems as if winter always has something up its sleeve for Canadian drivers.
These tips are provided for information and prevention purposes only. They are general in nature, and Desjardins Insurance cannot be held liable for them. We recommend using caution and consulting an expert for comprehensive, tailored advice.
In Quebec, Desjardins Insurance refers to Desjardins General Insurance Inc. In Ontario and Alberta, Desjardins Insurance refers to Certas Direct Insurance Company, underwriter of automobile and property insurance.