Skip to Content
null
null
9 Essential Puppy Training Tips for New Dog-Owners
If this is you and your family's first puppy, then you may be unsure where to start with schooling. Rest easy, proud puppy-owner: use these eight puppy-training tips to get started on the right paw.
1. Start Training ASAP
It's important to begin your new furry family member's education as soon as possible. While some veterinarians discourage training puppies under a year old, it's actually beneficial to begin your puppies training while he is still young. In fact, you can begin to housetrain your puppy on his first day home!
Remember: if you take the time to train your puppy properly in his early life, you will have a much easier time with him as he grows up – it's easier to teach proper behaviours now than correct improper behaviour down the road!
2. Choose Your Puppy Training Philosophy
When it comes to puppy training, there are a few different methods and schools of thought to choose from.
From using clickers, to establishing dominance, to purely motivational training, there are many ways to teach and train your new furry family member.
Given the amount of options available, it's important to choose a puppy training philosophy that you're most comfortable with, so that you're able to fully use the tools and techniques provided to help little Rover learn proper behaviours from improper ones.
3. Opt for Socialization Classes
Besides choosing and adopting your own training philosophy, socialization classes are another great way to introduce your new puppy to the novel objects and scenarios that she will encounter in her daily life, in a safe and controlled environment.
Puppies' brains are particularly receptive to retaining experience that they encounter within their first 13 to 16 weeks of life. That's why it's important to begin socialization classes early, as these will expose them to the things that they will encounter later in life – such as other puppies and dogs, children and adults, and daily environments. What's more, these classes will help them develop a positive association with these people, places, and things – this ensures that they will not have a negative association, or fearful response, to these situations and objects later in life.
4. Be Consistent
Like many things in life, when it comes to puppy training, consistency is key!
The best way to be sure that your puppy is properly learning and developing is to be consistent with your behaviour and reactions. Make sure you're reacting to a specific behaviour in the same way, every time. Also, be sure that all family members are clear on which behaviours they should be reacting to, and how.
5. Puppy Proof Your Home
Before you even begin on your puppy training journey, it's vital that you "puppy-proof" your home so that you can create a safe, inviting environment in which your new furry family member can learn and develop.
This includes:
Making sure that house plants and medications are out of reach
Clearing all low surfaces (such as coffee tables)
Putting small items (such as coins, paper clicks, and yarn) in containers
Making sure trash cans are secured with a lid, and kept in a cupboard
Staying away from automatic toilet bowl cleaners
Keeping electrical cords, cleaning supplies, and cat litter boxes out of puppy's site
6. Keep His Health Top of Mind
When it comes to your new puppy's well-being, health should undoubtedly be your number one priority.
Just as you would spend time and effort researching and choosing a family doctor, take the time to find a veterinarian that's right for you and your puppy. It's wise to ask family, friends, neighbours and other dog-owners for recommendations – then, make an appointment with your chosen vet so that you can see if they fit the bill.
What's more, be sure to stay on top of your puppy's vaccination requirements.
The most common vaccines include:
Rabies
Hepatitis
Parainfluenza
Parvovirus
After vaccinations are complete, be sure to bring your puppy to the vet at least once a year for a check-up.
Despite the efforts of even the most careful and doting of pet parents, puppies do develop illnesses and fall sick once in a while. That's why it's important to be protected in case of emergency veterinary expenses. Desjardins Insurance offers a variety of pet insurance coverage options, so that you can take care of your new puppy, no matter what.
7. Potty Train at the Appropriate Age
It's important to begin potting training your pup at the right time – if you start too early, he will not be able to keep up with lessons! Most experts agree that the best time to start potty training your puppy is between 12 and 16 weeks of age – at this age he will have enough bladder control to properly learn potty training.
If your puppy is more than 12 weeks old, or if he has gotten used to eliminating in a cage, be mindful that it might take longer to potty train him – don't be discouraged, however. Patience is key – he might take longer to learn, but the extra time taken will be worth it in the long run.
8. Listen and Love
Just as a human baby needs your love and attention, so too does your puppy – after all, she is a baby, and should be listened to and treated with affection!
Sometimes, pet parents are quick to let a puppy know when they're upset with her, but may forget to reward good behaviours. Be sure that you're giving your puppy plenty of love and affection, and giving her attention and praise when she's done well.
9. Be Patient
If there's one character trait that every mother and father has in heaps – whether they have a baby, a puppy, or both – it's patience!
While training little Rover, remember – he will inevitably make mistakes. Keep in mind: your puppy has the mental capacity of a preverbal toddler, and you must treat him as such.
Happy puppy-training!
9 Essential Puppy Training Tips for New Dog-Owners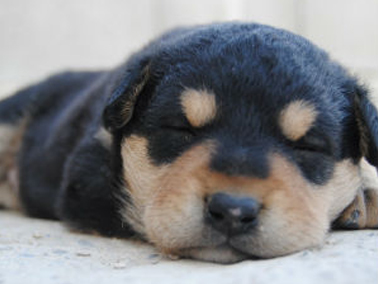 November 06, 2017
The holidays have come and gone, and the New Year has begun. If there was a new furry friend under your tree this past Christmas, it's time to begin an important part of your new puppy's education – training!
These tips are provided for information and prevention purposes only. They are general in nature, and Desjardins Insurance cannot be held liable for them. We recommend using caution and consulting an expert for comprehensive, tailored advice.
In Quebec, Desjardins Insurance refers to Desjardins General Insurance Inc. In Ontario and Alberta, Desjardins Insurance refers to Certas Direct Insurance Company, underwriter of automobile and property insurance.