Skip to Content
null
null
API: One in Five Bulk Motor Oils Are of Poor Quality
The Washington, D.C.-based oil and natural gas firm purchased and analyzed approximately 1,800 motor oils from the past five years, all of which were dispensed from bulk tanks. Of these, roughly 20 percent did not measure up to API's performance standards.
As a result, API recently developed a program called "Motor Oil Matters," or MOM for short. The program is a testing procedure that API puts motor oils through, determining their overall quality based on whether or not they can pass specific benchmarks. If approved, the "MOM" symbol is stamped either on the product or at oil change locations.
Kevin Ferrick, system manager for engine oil licensing and certification at API, noted that this is just another piece of information that will help consumers make more informed decisions regarding automotive maintenance.
"API has launched a new phase in its Motor Oil Matters program that will provide the information necessary to consumers to ensure they receive the high quality motor oils that they expect for their vehicles," said Ferrick. "The Motor Oil Matters program reminds consumers about the importance of using quality motor oils in their cars and trucks. [MOM] also calls on certified oil change locations to go the extra step to verify the quality of the oil on invoices and receipts."
Why motor oil is so important
Just as auto insurance coverage is a critical component for every driver, motor oil is crucial for engines to perform at their peak. As noted by Car Care Canada, oil lubricates all of a vehicle's working parts. Additionally, it ensures that the engine doesn't carry combustion contaminants, and that metal fragments don't splinter off into the system but are stored in the filter. These tiny particles are ultimately removed from the engine when the filter is changed. As a general rule, it's best done every 5,000 to 7,000 miles, or every 8,000 to 11,200 kilometers traveled.
By speaking to a mechanic or automotive professional, motorists can determine the best oil for their car's mechanical needs. This can also be learned by reviewing the owner's manual. Several years ago, Popular Mechanics magazine published an informative article on how drivers can pick the motor oil that's best for them. One of the easiest ways is by understanding what oil descriptions mean, such as premium conventional, fully synthetic, synthetic blend and oil for high mileage. Additionally, it's also important to understand what the letters and numbers mean, such as 20W-50 or 10W-30.
The magazine noted that these labels help explain motor oil's viscosity, or thickness. The lower the number, the less thick it is at certain temperatures. For example, 10W-30 has less viscosity than those with a higher number.
The second figure explains how the oil functions under warm conditions. Again, the higher the number, the thicker it tends to be under extreme temperatures. The "W" stands for winter.
In short, the information explains the viscosity of oil under specific temperature conditions from 0 degrees Fahrenheit up to 212 degrees Fahrenheit, or boiling. Motor oil gets thinner the hotter it is, and thicker the colder it is.
Additional information about motor oil can be found at Popular Mechanics' website.
API: One in Five Bulk Motor Oils Are of Poor Quality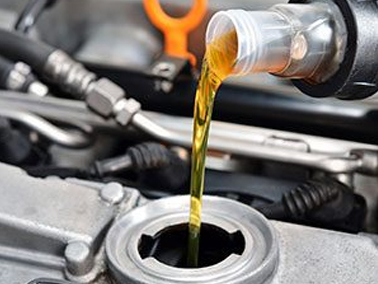 November 14, 2017
While most motor oils that are bought and sold in auto repair shops and big box retailers are top quality, there are a considerable number of them that don't meet the exacting standards of the American Petroleum Institute, as the trade association recently determined in testing.
These tips are provided for information and prevention purposes only. They are general in nature, and Desjardins Insurance cannot be held liable for them. We recommend using caution and consulting an expert for comprehensive, tailored advice.
In Quebec, Desjardins Insurance refers to Desjardins General Insurance Inc. In Ontario and Alberta, Desjardins Insurance refers to Certas Direct Insurance Company, underwriter of automobile and property insurance.