Skip to Content
null
null
Commercial Vehicles: How to Prevent Winter Accidents
The cost of accidents
According to the Société d'assurance automobile du Québec, nearly 40% of collisions occur in winter. By focusing on prevention, you could avoid the expenses caused by a damaged vehicle in terms of productivity and profitability.
On top of a possible increase in the insurance premium for your vehicle fleet, you might have to absorb other costs as well:
Insurance deductible for the damaged vehicle
Removal of the vehicle from the fleet
Salary paid to the injured employee during the wait period for SAAQ and CNESST benefits and the salary to pay a replacement
Costs can be indirect as well:
Delivery delays
Service reductions
Client dissatisfaction
Set up an accident prevention program
The program should include:
Proper preparation of vehicles for winter. In addition to installing winter tires (required in Quebec), have brakes, windshield wipers and batteries systematically checked before the first snowfall.
Driver monitoring. Your program should determine driver selection criteria, offer ongoing training, allow periodic driver's license checks (with the SAAQ's business services) and include drug and alcohol monitoring.
Reminders of the importance of adjusting driving for winter conditions and education about visibility issues, including complete clearing of windows, and tire grip depending on road characteristics.
Trip planning advice, using tools like Google Maps, The Weather Network and Québec 511 for road conditions.
Access to GPS and a hands-free mobile phone-particularly useful for employees who are on the road a lot.
Access, in commercial vehicles, to equipment like shovels, snow brushes and scrapers, booster cables, anti-skid plates and an emergency kit.
A policy and measures put in writing, circulated and signed by all parties involved.
Analysis of incidents to prevent them from happening again.
Reward good driving
To get employee buy-in, why not create a rewards program (e.g., for a clean driving record, no at-fault accidents) to go along with your policy? Managing the risk for winter accidents is everybody's business, and can prevent a lot of personal problems for your employees and financial implications for your business.
You can also get tips on how to prepare your company for winter.
Commercial Vehicles: How to Prevent Winter Accidents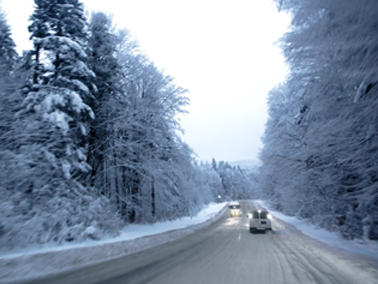 February 10, 2021
Harsh Quebec winters influence driving. All drivers should be extra careful, especially those behind the wheel of commercial vehicles. Don't underestimate the costs of potential accidents involving your company's vehicles. Educate your employees!
These tips are provided for information purposes only, are general in nature, and Desjardins Insurance cannot be held liable for them. We recommend using caution and consulting an expert for comprehensive, tailored advice.
Sources:
Based on tips from Gaëtan de Courval, auto consultant
Winter driving: adapt your driving, SAAQ