Skip to Content
null
null
How to reduce the risk of theft and fire on construction sites
By taking a few precautions, you can reduce the risk of theft, vandalism and fire on construction sites:
Hire security guards to monitor the work site during off hours (nights and weekends).
Consider installing an alarm system and linking it to a central monitoring station to reduce the risk of intruders.
Post signs that make it clear the construction site is under surveillance to dissuade would-be vandals.
Have one single entrance and exit to the site, if possible. Secure the perimeter with fencing and lock the entrance so that only authorized personnel can access the work site.
Reduce the risk of theft of building materials, equipment and tools
Vandalism and theft are all too common occurrences on construction sites.
Here are a few precautions you can take to reduce these risks:
Avoid leaving machinery or large quantities of materials on site when the work day is over.
At the end of the day, make sure any equipment, tools and materials that need to stay on the site are locked away and protected by an alarm system.
Make sure that the job site and entrances are well lit to discourage intruders.
Equip storage areas with cameras and movement detectors.
Encourage workers and suppliers to report any theft, attempted theft or vandalism they witness.
Reduce the risk of fire
Hot work (e.g., welding, cutting) should be closely monitored on the job site.
Make sure there is a sufficient number of portable fire extinguishers on site.
Maintain a fire department access route and make sure it is clear at all times so that firefighters can take swift action.
How to reduce the risk of theft and fire on construction sites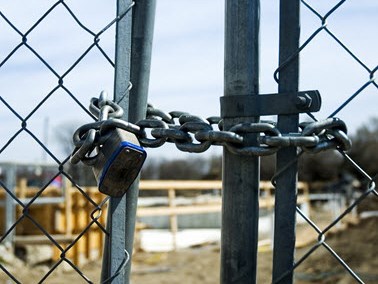 February 22, 2018
If you're in the construction business, you already know about the extra expenses and complications that can arise if tools or equipment are stolen, a fire breaks out or vandals go to town on your job site. These incidents can also lead to delays in work schedules, which means you could end up also paying a penalty to your customer.
Desjardins Business Insurance refers to Desjardins General Insurance Inc. Some conditions, exclusions and limitations may apply. The information provided is meant to be illustrative only and does not constitute or replace the advice of experts. Desjardins Business Insurance assumes no liability with regards to how such information is used.