Skip to Content
null
null
Cottage Opening Checklist: Preparing for Cottage Season
Here to help you get the job done, so you have more time to relax on the dock is our cottage opening checklist.
Before the drive
Review your insurance coverage and make sure everything is up to date. If you have any concerns, you can contact your insurance provider.
Gather any licenses you may need to bring with you such as boating and fishing license.
Depending on where your cottage is, you might not have electricity on. If that's the case, you may have to call local utilities to turn on the electricity. This may need to be done with water or gas.
Bring all the cottage keys you need.
Assemble all the equipment you will need to look after your cottage opening weekend. Anything like cleaning supplies, yard tools, first aid kit, flashlights, batteries and other important items you may need.
Create a grocery list with easy-to-prepare food. Opening weekend can be a lot of work, so you may not want to spend a great deal of time preparing a gourmet meal. Buy meals and snacks before you leave or get groceries along the way.
When you arrive at the cottage
Once you have finished bringing your belongings from the car to the cottage, take some time to carefully inspect the outdoor perimeter. Look for any potential damages to the power lines, window screens, doors and the roof. Walk around and spot any signs of storm damage which include downed trees and big branches scattered around. Inspect your dock as well and see if anything needs fixing.
After inspecting outside, you will want to take a good look inside the cottage. Open up cupboards and look carefully at counters for any signs of rodents and insects that may have gotten inside.
Look for any mold or mildew.
Open any windows and doors to air your cottage out after a long winter.
Test utilities to make sure they are functioning properly.
Turn on the water and make sure all the taps and toilets work properly
Find yourcottage's septic tank to see if the area around the tank is damp or smells bad. If so, this could possibly mean your septic tank needs to be pumped out.
Replace and test smoke and carbon monoxide detector batteries.
Now that the major tasks have been done, it's time to relax, grab a drink and lounge on the dock. Listen to the soothing sounds of nature.
Happy opening weekend!
Related posts
Road Safety Tips for Driving to Cottage Country
Cottage Opening Checklist: Preparing for Cottage Season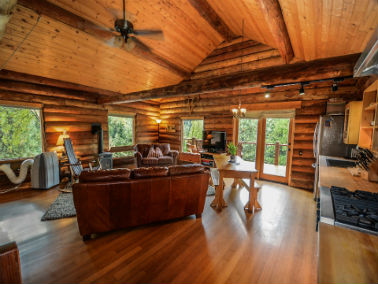 May 15, 2018
Cottage season will soon be upon us and with the Victoria Day long weekend just around the corner, you'll want to make sure you have all your supplies, tools and essentials to open the cottage after a winter away.
These tips are provided for information and prevention purposes only. They are general in nature, and Desjardins Insurance cannot be held liable for them. We recommend using caution and consulting an expert for comprehensive, tailored advice.
In Quebec, Desjardins Insurance refers to Desjardins General Insurance Inc. In Ontario and Alberta, Desjardins Insurance refers to Certas Direct Insurance Company, underwriter of automobile and property insurance.