Skip to Content
Important
We're receiving a very high number of calls right now
To avoid the wait, you can file a claim, update your insurance and much more in your Online Services account.
null
null
Does Homeowners Insurance Cover Yard Damage?
The Type of Damage
Depending on the type of damage inflicted on your yard, your home insurance policy may be able to cover it. For instance, if there's damage by fire, lightning, theft or impact from a vehicle, a standard home insurance may provide coverage. This coverage, however, is most likely restricted to the removal of the damaged landscape on your property and may have limits on the amount for replacement costs to any damaged plants, shrubs and trees.
Falling trees can be a concern for homeowners. If the wind knocks over a tree onto your lawn, there may be no coverage for the tree or its removal. That is why frequent and proper maintenance of your trees are so important! However if yours or your neighbour's tree falls onto your home or garage, your insurance provider may be able to provide coverage for those damages. Other risks such as lawn damage from insects and pests or weather-related scenarios such as drought or the weight of snow and ice may not be covered as well.
Can you Get Additional Coverage for your Garden and Landscaping Equipment?
It's possible that some insurance providers may have additional landscaping equipment coverage. This could include increasing your coverage limits or getting separate specialized coverage for equipment such as garden tractor. To understand what is being covered and what is not with your home insurance policy, we always recommend you connect with your provider and ask any questions that you may have.
How to Minimize Damage to your Yard
While wear and tear can happen to your yard, there are preventative measures you can take to lessen any damages and keep your yard looking tidy, lush and strong. First, you can make frequent trips to survey the front and backyard and look for any trees that need to be trimmed, broken branches and twigs, brown patches of grass or any weeds that need to be removed. Any diseased or dead trees should be professionally removed to ensure your property's safety. By keeping on top of your yard maintenance, you can ensure a beautifully flourishing, protected yard.
You'll also want to make sure you have the proper tools for your yard cleanup duties. This can include sturdy ladders, safe tree saws/pruners, solid rakes, durable garden wheel carts and strong shovels to name a few. Once you have the right tools for the job, you can begin your yard maintenance tasks.
It takes a great deal of hard work and commitment to maintain a beautiful landscape, but with frequent efforts, planning and dedication, you can help your yard to look lush and stunning. Desjardins Home Insurance can provide you with insurance to protect your home - and its stunning landscaped lawn. Contact a licensed insurance advisor today to learn more.
Related Posts
How to Maintain and Care for Your Trees
How to Create the Ultimate Backyard Oasis
Does Homeowners Insurance Cover Yard Damage?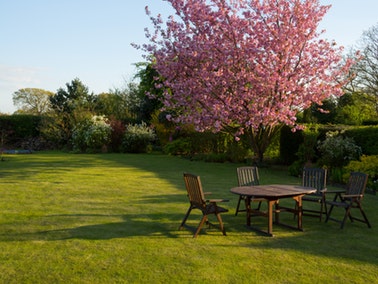 June 27, 2019
Sprucing up your home's exterior can help create a beautiful outdoor oasis and add some curb appeal you'll be proud to show off. Colourful garden beds can add a touch of ambience and concrete paving stones can provide a stunning walkway. Although what happens when your gorgeous landscaping efforts get damaged?
These tips are provided for information and prevention purposes only. They are general in nature, and Desjardins Insurance cannot be held liable for them. We recommend using caution and consulting an expert for comprehensive, tailored advice.
In Quebec, Desjardins Insurance refers to Desjardins General Insurance Inc. In Ontario and Alberta, Desjardins Insurance refers to Certas Direct Insurance Company, underwriter of automobile and property insurance.