Skip to Content
Update
System update: This Saturday at 8:30 PM until Monday morning (Eastern Time)
Get a quote, update your insurance or file a claim online before or after this time period. You can call us if needed during business hours. 
null
null
Garage Fire Safety Tips
Make sure you and your loved ones are informed on garage fire safety and prevention – here are our most important garage fire safety tips to read and share with your family:
1. Clean the Clutter
Garages are useful not only for storing our vehicles and bikes, but also a place for all-important extra storage when our closets and cabinets are already full.
But all those boxes, containers, garbage bins and miscellaneous clutter getting stored in your garage can act as kindling if a fire does start in your garage. That's why it's so important to declutter your garage at least a few times a year – organize tools and belongings in shelving units, instead of leaving them haphazardly strewn across the garage. Store flammable items on high shelves, away from heat-producing appliances.
What's more, you'll want to clear dust and cobwebs from your garage regularly, and keep clutter away from electrical outlets and flammable materials. Get started with these spring cleaning tips for your garage.
2. Store Flammable Liquids Safely
Among your tools, spare tires and other items stored in the garage, you most likely have items such as gasoline, oil and paint. When storing these items, however, you need to take extra precautions – these flammable liquids should be handled and stored with care.
However, the reality is that the best place to store gasoline, oil, varnishes and propane is away from your garage and home, preferably in a shed. If you don't own a shed and your garage is your only storage option, make sure to store them in small amounts and have them probably sealed. Make sure each liquid is labeled, and keep them away from, lights, heaters, and appliances.
3. Be Careful with Electrical Tools
Malfunctioning electrical tools and machinery is the number one cause of garage fires – that's why you should exercise caution when using your electric appliances and tools, at all times.
Ensure that your power tools and electrical appliances are plugged directly into a wall socket rather than a power bar. What's more, you should aim to have only one charging appliance or one major appliance plugged into a socket at a time.
Avoid using extension cords when using appliances – these can increase the risk of electrical fire.
4. Ensure You Have the Right Detectors Installed
Did you know that a traditional smoke detector is not recommended for your garage?
It's true – traditional smoke alarms respond to fumes, humidity, and even insects which can be found in your garage. Instead, ensure that you install a heat alarm in your garage. Heat alarms sound when they detect dangerously high temperatures.
Make sure your alarm is rated to respond to 175-250 degrees Fahrenheit (79.4-121.1 degrees Celsius), alerting you and your family to the flames of the fire, rather than the smoke.
Also ensure that your heat detector is hard‐wired or wirelessly interconnected with the other smoke alarms in your home.
5. Ensure the Walls and Ceilings are Protected
Besides fire-proofing the inside of your garage, it's also important that the structure of the garage itself is fire-proof.
If you have a door from the house to the garage, you'll want to make sure it's a 20-minute fire-rated door, which self-closes and self-latches from the garage into the house.
If you have living space above the garage, make sure that the ceiling is made with 5/8-inch Type X gypsum board, or its equivalent. If your garage is attached to your home, ensure that the garage walls are 1/2-inch gypsum board of equivalent, as well. If you have attic access to your garage, you'll also want to ensure that it includes an attic hatch cover to provide even more fire protection.
For additional piece of mind, make sure your home and personal belongings are protected with the right home insurance coverage. Review your insurance policy or contact a licensed insurance advisor to learn more.
Related Posts
Fire Safety Tips Every Household Should Know
Garage Fire Safety Tips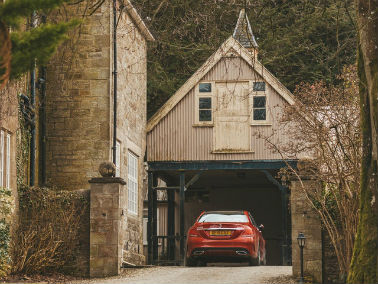 September 25, 2019
From protecting our precious vehicles to storing our tools, lawn mowers and more, our garages are an integral part of our homes. But did you know that garages fires can cause more injuries, spread farther, and cause more financial damage than fires starting in other areas of a house?
These tips are provided for information and prevention purposes only. They are general in nature, and Desjardins Insurance cannot be held liable for them. We recommend using caution and consulting an expert for comprehensive, tailored advice.
In Quebec, Desjardins Insurance refers to Desjardins General Insurance Inc. In Ontario and Alberta, Desjardins Insurance refers to Certas Direct Insurance Company, underwriter of automobile and property insurance.