Skip to Content
Update
System update: This Saturday at 8:30 PM until Monday morning (Eastern Time)
Get a quote, update your insurance or file a claim online before or after this time period. You can call us if needed during business hours. 
null
null
Headlight maintenance is crucial all year long
In a special for the Toronto Star, automotive expert Ian Law detailed some of the things drivers should keep in mind when it comes to headlight maintenance.
"Be seen"
The most crucial aspect of headlight maintenance can be boiled down to two words: Be seen. First and foremost, Law notes that drivers need to be certain that everything that's in front of them can be seen when the headlights are on low beam as well as on high beam function. This may be as simple as getting in the car when it's dark out and shining it on something that's far off. However, while that may be helpful, it's often not entirely sufficient. A professional auto mechanic should also check the headlights regularly to ensure that they're aimed correctly so that objects can be seen clearly, but also to ensure that they're not positioned in such a way that they'll blind oncoming motorists.
Keep headlights free and clear of dirt
Something else that motorists should do regularly is check the surface of their headlights for any road grit and grime. Headlight lenses should always be free and clear of any dirt-related impediments, which can easily diminish the brilliance of headlights. How quickly headlights can become caked with dirt and other obstruction depends on the year, but this usually tends to happen in the winter. Law says that varies car supply stores sell polishers that clean headlights and make them resistant to grit and grime.
When to use fog lights
Fog lights are another important aspect of headlights, but Law indicates that a surprisingly few number of motorists know when they should be used. Some think that they should be used whenever fog is in the area, but in reality they're only needed when the fog is so thick that it prevents the headlights from being seen. Motorists may be better off turning off their headlights and only using their fog lights in these conditions, as the headlights can reflect back into their eyes due to the thick fog.
When not to use fog lights
Some may think that using the fog lights at any time of day may make them easier to see, as they serve as an additional light to oncoming cars. In reality, though, fog lights can do just the opposite, Law notes. For example, some will use fog lights at night when it's clear out. However, they can easily blind people who are approaching. Instead, Law says people should simply use their headlights as they would normally – such as by turning on their high beams when no one is around and then switching them back to low beam function if a car is approaching.
How to check all the lights when alone
As important as headlights are, tail lights are just as crucial, as they're the first indicator to a fellow motorist that someone is ahead of them, turning or coming to a stop. Law says that drivers don't have to have someone with them to see that they're working. By simply turning on the full lights and walking around the vehicle, motorists can determine if everything is illuminated. Having the brake lights checked can also be done alone, so long as there's a pane of glass in the area that can reflect them.
With these tips, motorists may be able to reduce their risk of being involved in a car accident and the auto insurance claim that often comes with it.
Headlight maintenance is crucial all year long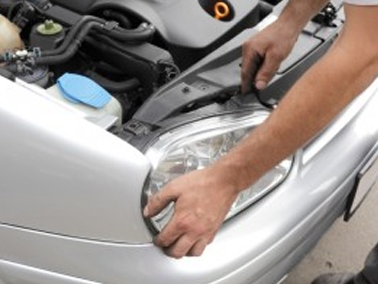 November 06, 2017
While headlights may not be the first thing motorists think about when it comes to avoiding an accident and auto insurance claim, driving experts say Canadians should not underestimate the importance of the car's lights and ensuring that they're always in good working order.
These tips are provided for information and prevention purposes only. They are general in nature, and Desjardins Insurance cannot be held liable for them. We recommend using caution and consulting an expert for comprehensive, tailored advice.
In Quebec, Desjardins Insurance refers to Desjardins General Insurance Inc. In Ontario and Alberta, Desjardins Insurance refers to Certas Direct Insurance Company, underwriter of automobile and property insurance.