Skip to Content
null
null
How to Deal with the Alberta Flood Conditions
But with the recovery process still several days away, the Insurance Bureau of Canada is reminding residents of what they should be sure to do in order to keep themselves and their family safe.
Bill Adams, vice president of the Western Canada division of IBC, noted that homeowners should pay attention to their officials and to do what they're asked.
"First and foremost, we encourage all individuals in danger of flooding to take the proper measures to protect themselves and their loved ones," said Adams. "In addition, we urge homeowners to take preventative action to minimize their losses."
While the current flooding conditions have been downgraded in severity, multiple news reports indicate that at least 10,000 residents remain under mandatory evacuation orders, meaning that they can't access their property. For those who are still residing in their homes, though, IBC offers a variety of recommendations to keep in mind in order to keep property damage to a minimum.
Take Precautions in the Basement
Because the basement is traditionally the lowest part of a residence, this is where much of the damage will likely be confined to. If they haven't been moved already, IBC says homeowners should be sure to move their valuables out of harm's way by bringing them to the attic or to anywhere that's far removed from the basement.
If flooded conditions have receded, it's important to mop up the area as soon as possible. IBC notes that within a matter of two to three days, an untreated cellar or basement can grow mold that attaches to the walls and floors, causing damage to the interior. While towels may be suitable for minor incursions of water, home improvement retailers should have industrial-grade air dryers available for purchase, which can help expedite the drying out process.
Some Flood Waters may be too Dangerous to Enter
Something else to keep in mind is where the flooded waters originate from. Depending on the source, it may not be safe for homeowners to take care of themselves. For example, IBC notes that if the flooding is from the sewage system, bacteria levels may be so high that they create the risk of disease for those who wade through.
For those who have just recently moved to Alberta or Western Canada from the U.S., they may be under the impression that home insurance in Canada includes damage for flooding. In reality, insurers don't traditionally cover overland flooding. However, if homeowners have water damage that resulted from sewage system problems, they may be able to make a claim, so long as they purchased sewer backup insurance when they first purchased their policy, IBC points out.
What has been particularly noteworthy about the current flood is how wide reaching it is. Multiple road closings remain in place throughout the province and rivers have risen to levels never seen before. For instance, Reuters reports that the Bow River crested this past weekend five times above its normal level.
Speaking with NBC News, Kevin Harrison, chief superintendent for the Royal Canadian Mounted Police, indicated that the majority of southern Alberta's 420,000 residents have likely been impacted by flood waters in some form or fashion.
It remains unclear when the 10,000-plus residents who have evacuated will be able to return to their homes.
How to Deal with the Alberta Flood Conditions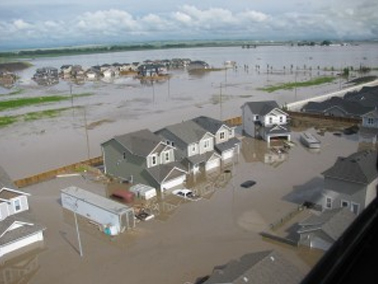 November 07, 2017
Due to heavy rainfall and rivers cresting beyond their maximum holding capacity, flooding has ravaged several parts of Alberta, prompting thousands of people to evacuate; likely leading to scores of home insurance claims once they're given the all-clear to return.
These tips are provided for information and prevention purposes only. They are general in nature, and Desjardins Insurance cannot be held liable for them. We recommend using caution and consulting an expert for comprehensive, tailored advice.
In Quebec, Desjardins Insurance refers to Desjardins General Insurance Inc. In Ontario and Alberta, Desjardins Insurance refers to Certas Direct Insurance Company, underwriter of automobile and property insurance.