Skip to Content
null
null
How to Maximize Your Home's Curb Appeal
But just because you're looking to maximize your home's curb appeal, does not mean you need to spend a fortune to do so. What's more, if you simply don't have weeks or months to dedicated to your spring spruce up, rest easy – there are many ways to add some much-deserved curb appeal to your property, without spending too much time or money.
Here are our top ways to maximize your home's curb appeal:
The Easy Fixes
Dress Up Your Front Door
Your door is the entryway to your home, and as such, should be welcoming to guests and neighbours alike.
One of the easiest, but most effective ways to add curb appeal to your home is to simply dress up your front door. If you have the budget and time, considering replacing your front door completely. If a complete replacement isn't possible, then give your door a new coat of paint, or add molding. You'd be surprised at the difference you can make with just a little paint and a few hours!
Add New House Numbers
Your house numbers are what help to identify your home to the world. If your house number is faded, old, or unsightly, then simply installing a new one will give your home a fresh look for spring. Modern home numbers are made of aluminum, stainless steel, or brass. For a sleek, unified look, choose a finish and material that matches with the finish of your home's outdoor light fixtures.
House numbers sell for anywhere between a few dollars, to $30+. If you want to take the DIY route, there are endless ways to create your own house numbers for a fraction of the cost. Don't be afraid to get creative!
Get Artistic
If you're not the do-it-yourself type, then don't fret – there are plenty of ways to add curb appeal to your home that don't involve taking the DIY road!
Why not plant some weather-resistant outdoor artwork on your front lawn? The options are endless: from elegant sculptures, to modern metal cut-outs, to whimsical wind-chimes, and even charming birth baths, outdoor art pieces are the perfect way to add an artistic flair to your front lawn and maximise your home's curb appeal.
The Weekend Projects
Add a Flower Bed
Another wonderful way to add curb appeal to your home without spending too much time or money is to create a flowerbed on your front lawn. Flowerbeds are the perfect way to add colour and vibrancy to your home's exterior, while adding to your natural greenery. For a thorough, easy-to-follow gardening primer, take a look at our guide to spring gardening for beginners.
Invest in Shutters and Trim
Shutters and trim are an easy, inexpensive investment in your home's curb appeal. What's more, shutters can provide extra security and help to control ventilation and natural light in your home.
Modern trimming is made from durable, low-maintenance composite materials, including polyurethane and PVC resins. Window shutters come in a variety of formats, made of materials ranging from wood, vinyl, aluminum or fiberglass. For a harmonious look, choose shutters and trim that compliment your home's design in colour, size, and material.
Install Outdoor Lighting
If guests arrive to your home at night, and your front and backyard are shrowded in darkness, it may be time to invest in some outdoor lighting! From accent lights, to entrance lighting, and even string lights, outdoor light fixtures can illuminate your home's curb appeal.
Why not light up your walkway with some practical, yet elegant walkway lighting? If you're looking to take the DIY route, use our step-by-step walkway lighting installation guide to transform a dull walkway into a welcoming pathway for your guests.
As you're working hard to beautiful your home from the outside, remember to take some time to protect it from the inside out. Desjardins Insurance offers personalized home insurance options to adapt to you and your family's unique situation, while saving you money. Get a quote today to see how your savings adds up.
How to Maximize Your Home's Curb Appeal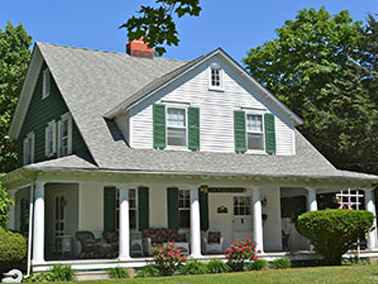 November 07, 2017
Whether you're renovating your house, selling it, or just want to spruce up your home, this is the time of year to do so! If you've done your fair share of indoor renovations, but neglected your home's exterior, spring is the optimal time to give your abode a mini facelift.
These tips are provided for information and prevention purposes only. They are general in nature, and Desjardins Insurance cannot be held liable for them. We recommend using caution and consulting an expert for comprehensive, tailored advice.
In Quebec, Desjardins Insurance refers to Desjardins General Insurance Inc. In Ontario and Alberta, Desjardins Insurance refers to Certas Direct Insurance Company, underwriter of automobile and property insurance.