Skip to Content
Important
We're receiving a very high number of calls right now
To avoid the wait, you can file a claim, update your insurance and much more in your Online Services account.
null
null
How to Prevent Frostbites and Learn How to Treat Them
It may seem a bit much, but any extremities that are exposed to the extreme cold and wind-chill factors can result in a frostbite. The body parts most likely to get affected are fingers, toes, ears, cheeks, nose and chin. Learn how to protect these areas, prevent frostbite, what the symptoms of a frostbite are and how to treat them if needed.
Prevention
Staying warm and wearing proper clothing are some of the best ways to prevent getting a frostbite. Layer clothing with synthetic and insulating material. Synthetic material clothing can wick moisture away from your skin to help keep you dry, which can greatly reduce the risk of suffering from extreme cold conditions. Insulating material such as merino wool and fleece can trap air and help keep body heat in. If you do happen to feel too hot in the layers, you can remove them. Or if you don't feel warm enough you can add another layer of clothing. Avoid wearing anything made up of cotton as it can absorb more moisture.
It has been said that we lose a large portion of body heat by not covering our heads. That's why wearing a hat is so important in winter. A hat can also protect your ears from getting too cold. To protect your face, you can either wrap a scarf around your nose or wear a balaclava.
If there is a scenario where you are stranded outside in a snowstorm or extreme cold conditions, keep moving and look for some shelter. A building, a vehicle or even a hollow tree can help reduce the risk of getting frostbite or even hypothermia.
Symptoms
Caring for Kids – Canadian Paediatric Society describes frostbite symptoms to first include red and swollen skin with a stinging sensation. Then the skin will start turning a bluish-grey colour. If the skin completely freezes, there will be a numbing sensation as well as shiny and white looking skin. Blisters can also start to form on the skin.
Treatment
Most mild frostbites can be treated from your very own home. Provide warm shelter for the effected individual and remove any wet clothing they may have. Secondly, help dry them off and provide them with dry clothing. Wrap a few blankets around them if you have to. You can also make them a hot beverage to regain some heat. When treating a person with a mild frostbite, be sure not to rub the frostbitten area as it could irritate the skin more. For more severe cases of frostbite, go to a local hospital.
Related posts
How to Prevent Frostbites and Learn How to Treat Them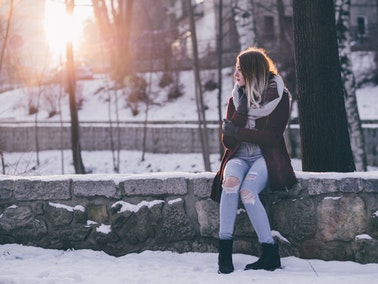 January 08, 2019
Frigid temperatures in Canadian winters are common and to be expected. To get ready to face these outdoor winter elements, we bundle up with multiple layers, a hat, scarf, mittens and parka to stay warm.
These tips are provided for information and prevention purposes only. They are general in nature, and Desjardins Insurance cannot be held liable for them. We recommend using caution and consulting an expert for comprehensive, tailored advice.
In Quebec, Desjardins Insurance refers to Desjardins General Insurance Inc. In Ontario and Alberta, Desjardins Insurance refers to Certas Direct Insurance Company, underwriter of automobile and property insurance.