Skip to Content
null
null
Ontario's New Crossover Law: What You Need to Know
For drivers, cyclists, and pedestrians across Ontario, the start of 2016 also signals another important change: a new law meant to make the province's roads safer for all.
In September, the Ministry of Transportation enacted a new distracted driving law meant to curb what many have called an "epidemic of distracted driving" in Ontario.
As part of the on-going efforts of Bill 31 – also called the Making Ontario's Roads Safer Act – this new law could leave neglectful drivers and cyclists with a fine of up to $500.
The New Law
Beginning last Friday, January 1st 2016, all drivers – including cyclists – will be required to stop and let pedestrians completely cross at a pedestrian crossover or at a school crossing where a crossing guard is present, and displaying a school crossing stop sign.
If you've been left confused by this new law, however, you're not the only one. Many pedestrians and drivers alike have been left wondering what exactly these new road safety rules entail.
What's the Difference Between a Crossover and a Crosswalk?
The main point of confusion? What exactly is the difference between a crossover and a crosswalk.
According to Ontario's Ministry of Transportation, a crossover can be identified by the road markings, special signs, and lights that distinguish it from a pedestrian crosswalk. A crossover is equipped with special warning signs, illuminated overhead lights, and a pedestrian push button.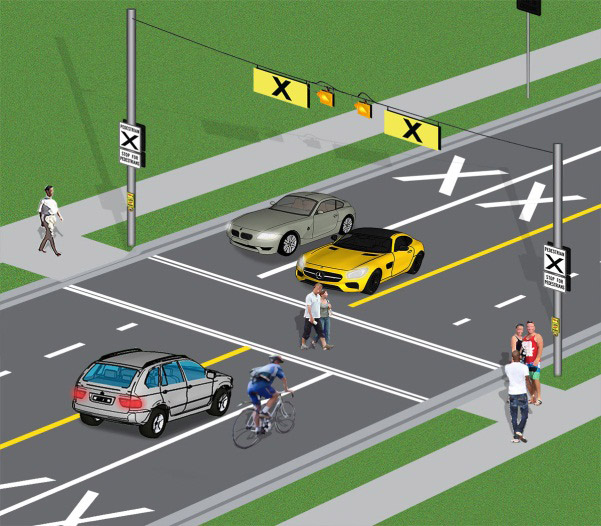 Ontario Ministry of Transportation
On the other hand, a crosswalk is a pedestrian crossing location that is typically located at stop signs, intersections with traffic signals, and pedestrian signals.
The Ministry of Transportation defines a "crosswalk" as either:
the portion of a roadway that connects sidewalks on opposite sides of the roadway into a continuous path
OR
the portion of a roadway that is indicated for pedestrian crossing by signs, lines or other markings on the surface of the roadway at any location, including an intersection.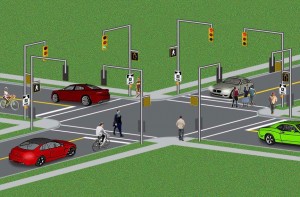 Ontario Ministry of Transportation
What's more, a school crossing is defined as:
a pedestrian crossing where there is a school crossing guard present, and they are displaying a special school crossing stop sign.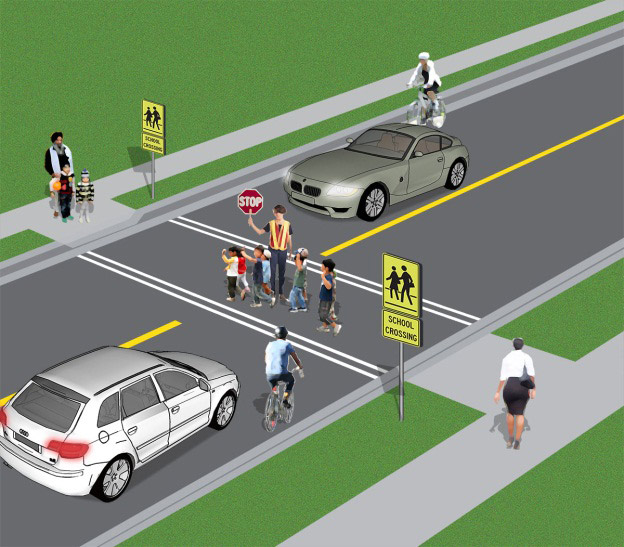 Ontario Ministry of Transportation
All drivers must wait until school children, school crossing guards, and all other pedestrians have fully crossed the road before proceeding.
What it Means for Drivers
So what does this new law mean for drivers on Ontario roads? Consider the following points:
As always, drivers must pay special attention to pedestrians at all times, especially when they're making a turn.
In terms of fines, drivers that break this new crossing law will be hit with a penalty of anywhere from $150 to $500. This includes offences at all the appropriate crossings – pedestrian crossings, school crossings, and at crosswalks where there are traffic signals.
What's more, offending drivers will be left with 3 demerit points.
Drivers that run a red light will be hit with an even steeper fine – rushing through a red light will put offending drivers back $200 to $1000.
These rules apply for cyclists, as well as those in a motorized vehicle.
Around schools, public areas, and community safety zones clearly marked with signs, fines will be doubled.
Regular crosswalks will not be subject to the same law – at a regular crosswalk, demarcated by a traffic light or stop sign, drivers may proceed when it is safe to do so, after all pedestrians have fully passed their vehicles.
How can Ontario drivers and cyclists avoid breaking this new law and incurring these fines and penalties? The following are a helpful safety few things to keep in mind:
Make sure all pedestrians have completely crossed the street before proceeding.
As always, motorists should drive extra carefully in residential areas, school zones, or other areas where children frequently play.
Be patient! Give extra time to senior pedestrians that may require more time when crossing the street.
What it Means for Pedestrians
While there are new specific set of rules that pedestrians need to follow, basic pedestrian safety practice should always be followed. In compliance with this new law, pedestrians should also follow a few basic guidelines:
Before entering a crossover, make eye contact with the driver of a vehicle that has stopped for your crossing. It's imperative that the driver sees you before you step onto the road and begin crossing, so that they can act accordingly.
Pedestrians should never jaywalk – only cross at traffic lights and marked crosswalks.
What's more, those attempting to cross a street should not cross the road between parked cars.
As always, pedestrians should keep safety top of mind:

It should go without saying that crossing on a red light is never a good idea.
Wait until traffic has come to a complete stop when crossing at a traffic light, and wait until the light has turned green to cross the street.
Pedestrians should also note that these new rules do not apply at traffic signals, and at crosswalks with stop signs.
Whether your vehicle of choice has four wheels, two wheels, or none at all, keeping these safety guidelines in mind will ensure your and others' safety, while ensuring you properly follow new crossing rules and avoid any penalties and fines under this addition to Bill 31.
To help make Ontario's roads safer for everyone, motorists should be sure to practice defensive driving, and cyclists and pedestrians should stay alert and follow necessary precautions. Remember: by working together, Ontarians can ensure their roads are safer, no matter their choice of transport!
These tips are provided for information and prevention purposes only. They are general in nature, and Desjardins Insurance cannot be held liable for them. We recommend using caution and consulting an expert for comprehensive, tailored advice.
In Quebec, Desjardins Insurance refers to Desjardins General Insurance Inc. In Ontario and Alberta, Desjardins Insurance refers to Certas Direct Insurance Company, underwriter of automobile and property insurance.