Skip to Content
Update
System update: This Saturday at 8:30 PM until Monday morning (Eastern Time)
Get a quote, update your insurance or file a claim online before or after this time period. You can call us if needed during business hours. 
null
null
Selling a car? Some tips to keep in mind
However, many opt to take a different route by selling their car themselves.
But before this is done, it's a good idea to do some research, according to experts at Kelley Blue Book.
Jack Nerad, executive editorial director at KBB.com, noted that adequately preparing a car for the sales process always pays off. And contrary to what some people think, it doesn't take a whole lot of time.
"Selling a car doesn't have to be a stressful or difficult experience," said Nerad.
KBB.com offered several tips and suggestions for motorists who are new to selling their own automobile.
Compile the car's information profile
Perhaps the most important component of selling is ensuring that all the car's information is in one place. The vehicle valuation provider said that all too often, this part of the sales process won't be done until the end – or right around the time in which the owner signs over the title to the new buyer. In reality, rounding up all of the assorted documents and details about the vehicle should be done early. Important records to have include the title, papers that show when it's been last serviced and the original sales receipts.
Something else to be clear about is what condition the car is in. KBB noted that this is an issue the prospective buyer will have a keen interest in knowing, as it indicates the amount of wear and tear that's been placed on it over however many years it's been driven. Though the owner may have a very general idea of what type of shape it's in, it may be wise to take it to a mechanic, who can give a more accurate analysis as to its overall makeup.
Resale value can increase by taking care of repairs
Of course, the seller of the used car wants to get as much out of it as possible as far as price is concerned. And while its condition has a heavy influence on its sticker price, there are several ways of increasing its resale value, according to KBB. For example, even little things that may seem unimportant can heighten the purchase price because the prospective owner doesn't have to perform the repairs. Having a dead headlight or blinker changed, replacing a loose gas cap or hubcap and installing a new windshield to replace one that's been dinged can all raise the price.
These preparatory steps will have little utility, though, if no one is aware that the car is up for sale. The Irvine, Calif.-based automotive information company stated that advertising should be more expansive than simply posting a "for sale" sign on the windshield. There are a variety of websites that can be used to market a car. The more details provided, the better, as the listing should ideally include several pictures from different angles and what features it has, both visual as well as safety-related.
But before any private sale can take place, Ontarians have to get in touch with their provincial government leaders. According to the Ministry of Transportation, to buy or sell a used vehicle in Ontario, residents must buy a Used Vehicle Information Package, ensure that the automobile identification number mirrors the one that's on the permit and also check to see that there aren't any loans still out on it.
Selling a car? Some tips to keep in mind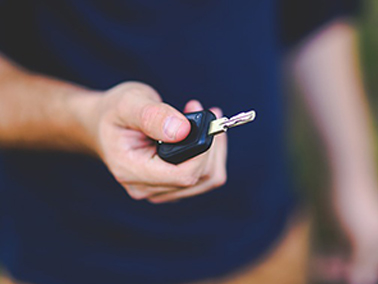 November 06, 2017
Whether it's because their auto insurance coverage policy has expired, or motorists simply want to purchase a new car, people will often trade in their vehicle with a dealership in order to get a better deal on their latest purchase.
These tips are provided for information and prevention purposes only. They are general in nature, and Desjardins Insurance cannot be held liable for them. We recommend using caution and consulting an expert for comprehensive, tailored advice.
In Quebec, Desjardins Insurance refers to Desjardins General Insurance Inc. In Ontario and Alberta, Desjardins Insurance refers to Certas Direct Insurance Company, underwriter of automobile and property insurance.