Skip to Content
null
null
Startling Stats About Car Accidents Caused by Wildlife in Alberta and BC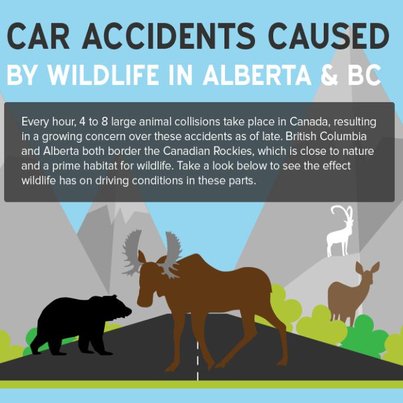 Car Accidents and Western Canadian Wildlife
In Alberta alone, six people die in highway accidents after motorists come into contact with a wild animal, such as a moose, deer or fox. And another 323 vehicle-animal collisions result in a serious injury.
These perilous situations aren't unique to Alberta. In British Columbia, approximately 384 motorists are hurt after colliding with wildlife. These accidents have taken their toll not only on people's lives but their wallets. About $240 million each year is spent on collisions involving wildlife in British Columbia alone.
Fortunately, the risk of encountering wild animals is not as high as it's been in the past. Thanks to the creation of 22 wildlife underpasses and two overpasses by Alberta's Banff National Park, road kill prevalence has fallen by 80 percent.
However, there are certain times of the year in which you're more likely to see wildlife than others. As a general rule, peak times for wildlife movement are between May and June and from October to January. It's at these times of the year that you should be hyper-vigilant, especially when traversing highway in heavily wooded areas.
Additionally, pay attention to the type of road your on. About 89 percent of wildlife accidents take place on two-lane roads on rural terrain. Also, don't let good weather let your guard down. About 86 percent of wildlife collisions occur when conditions are favorable and two out of every three happen when the sun is out.
Learn more about car insurance and get a quick car insurance quote!
Startling Stats About Car Accidents Caused by Wildlife in Alberta and BC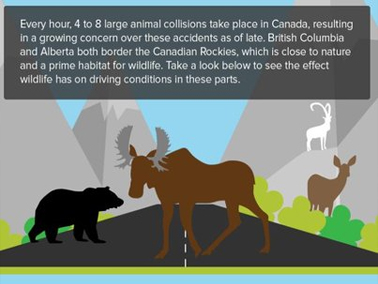 October 30, 2017
Recently compiled statistics indicate, it's important to be aware of road travelers of the four-legged variety – as a substantial number of accidents each year occur as a result of wildlife in Alberta and British Columbia.
These tips are provided for information and prevention purposes only. They are general in nature, and Desjardins Insurance cannot be held liable for them. We recommend using caution and consulting an expert for comprehensive, tailored advice.
In Quebec, Desjardins Insurance refers to Desjardins General Insurance Inc. In Ontario and Alberta, Desjardins Insurance refers to Certas Direct Insurance Company, underwriter of automobile and property insurance.