Skip to Content
Update
System update: This Saturday at 8:30 PM until Monday morning (Eastern Time)
Get a quote, update your insurance or file a claim online before or after this time period. You can call us if needed during business hours. 
null
null
The Essential Summer Car Maintenance Checklist
To help prevent some car misfortunes, read our summer car maintenance checklist to make sure your ride is good to go for summer.
Check fluid levels
Make sure the fluids in your car like transmission fluid, power steering fluid, brake fluid, windshield wiper fluid, motor oil and coolant are at the appropriate levels. Low fluid levels can cause your car to overheat, which is something you don't want to worry about during a road trip. To help avoid this, periodically check the fluid levels in the summertime and top them off as needed.
Test the battery
Similar to frigid weather, hot temperatures can cause havoc on your car battery. Battery fluid can evaporate when it's hot outside, leading to corrosion. Extreme heat can also reduce car battery life or worse cause the battery to not work at all. If you are unsure about the battery life in your car, have a certified mechanic test it for you.
Monitor tire pressure
The summer weather can also be harmful to car tires. Hot temperatures can cause the tire pressure to increase, which can potentially lead to a tire blow out. Make sure to monitor the tires to check they are properly inflated and are in good working condition. Hot roads can also potentially damage car tires and cause them to deteriorate.
Working air conditioning
Having reliable and working air conditioning in your vehicle can make a big difference on a summer road trip. With the sun and heat blazing on the car windows, the air conditioner can make the car ride more comfortable for everyone aboard. If you notice the AC isn't as strong as it should be or is leaking, have a certified mechanic inspect it.
Summer car emergency kit
No matter what season, it's a good rule of thumb to have an emergency kit in your vehicle. For the summer months, add in a gallon of water and a few bottles of sunscreen. If you are travelling with young children, bring backup activities and toys to keep them entertained.
Before you head out on your summer adventure, make sure you are equipped with the right auto insurance and continue to maintain your vehicle.
Related posts
The Essential Summer Car Maintenance Checklist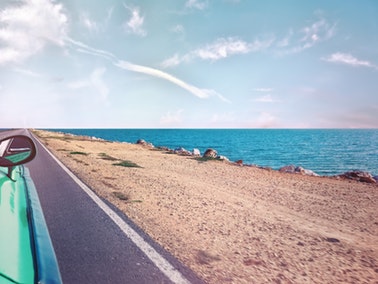 July 17, 2018
When summer comes around many of us enjoy planning a trip, hopping in the car and hitting the road for a summer adventure. However, many of us do not enjoy running into car trouble and having it put a damper on the trip.
These tips are provided for information and prevention purposes only. They are general in nature, and Desjardins Insurance cannot be held liable for them. We recommend using caution and consulting an expert for comprehensive, tailored advice.
In Quebec, Desjardins Insurance refers to Desjardins General Insurance Inc. In Ontario and Alberta, Desjardins Insurance refers to Certas Direct Insurance Company, underwriter of automobile and property insurance.