Skip to Content
Important
We're receiving a very high number of calls right now
To avoid the wait, you can file a claim, update your insurance and much more in your Online Services account.
null
null
Top 9 Scenic Hiking Trails in Ontario
Here are 9 scenic trails across Ontario to make a day trip of or a weekend getaway to explore the majestic beauty of our province.
Killarney Park Trails
Encompassing 100 km of white quartzite hills along West Georgian Bay, Killarney Park has captivated Canadian artists like The Group of Seven. Explore unspoiled back country on any one of 6 hiking trails ranging from 2 – 80 km. For a leisurely hour-long excursion, follow the Granite Ridge Trail which offers two ridges from which to see the renowned La Cloche Mountains.
For a more advanced hike, take on the challenging 7 km "The Crack," through a steep sided crevasse slicing through quartzite rock cliff. Once you reach the top of the ridge, the panoramic view is one of the best views in the park.
The Bruce Trail
The Bruce Trail covers 885 km of trails along the edge of the Niagara Escarpment. Featuring many waterfalls, caves, and a dense canopy of centuries-old trees, it is Canada's oldest and longest marked footpath. The entire trail requires 30 days or several years to complete. Find a section of the trail in your area and earn your badge to mark your progress toward completing the trail End-to-End.
Or, experience the trail with less structure and get on at any one of the hundreds of access points which can be identified on this downloadable map.
Niagara on the Lake Waterfront Trail
This trail follows the 56 km stretch between Fort Erie and Port Colbourne. It comprises a collection of paved paths, neighbourhood streets and rural roads across 68 communities and 405 parks. For hikers interested in stops like the Shaw festival, shops and bistros as well as wineries and farmland, this trail is a multi-day adventure.
For a shorter trek, the 16 km The Friendship Trail is a segment that follows an old rail bed running parallel to the shore of Lake Erie. It's easily walkable and winds through farmlands, wetlands, and the quaint Village of Ridgeway.
Algonquin Park's Barron Canyon Trail
The oldest provincial park in Canada is home to 20 interpretive trails for hiking day trips. Each are designed to explore a different aspect of the park, and has a designated trail guide booklet with information about the human and natural history.
The Barron Canyon Trail, a 1.5 km loop running along the north rim of the Barron Canyon, offers many opportunities for spectacular photos. The 100m deep canyon is home to swallows and rare plants from glacial times. For a day-long hike, Mizzy Lake covers 11 km of park ground, including 9 ponds and many opportunities for wildlife encounters.
Casque Isles Section of the Voyageur Trail
This well-groomed, 53 km section of Voyageur Trail between Sudbury and Thunder bay follows Lake Superior's shoreline. Sights along the way include old gold mines, trappers' cabins and caves displaying ancient paintings by the area's Aboriginal peoples, making it an active way to learn the rich history of Lake Superior.
For those who don't want to take on this entire Casque Isles trail over the course of so many days, it is divided into 5 segments, each with its own access point from Hwy. 17, and level of difficulty and length.
Sandbanks Dunes Trail
This 2.5 km trail in beautiful Prince Edward County loops through an unspoiled dune habitat. Covering expanses of flat, sandy beaches along Lake Ontario, the trail is clearly marked and offers many observation platforms to take a break and photograph unusual flora of the area.
The Sandbanks Dune Trail can be made more challenging by connecting up with one of the cross country ski trails, from which you can access the old Lakeshore Lodge, which used to be one of Ontario's premier resorts in the late 1800's. Make a day of it and trek the other 2 hiking trails at Sandbanks.
As you prepare for your summer hike, don't forget to tune up your car! Getting to your destination safely is an important part of the journey. Give your vehicle a thorough detailing to ensure it's in peak condition.
Orchard Trail, Rogue National Urban Park
Located near the Toronto Zoo, this park is surrounded by beautiful wildflowers, diverse bird species and just as the trail name suggests; apple orchards. It is one of the most popular trails in Rouge National Urban Park and can be enjoyed by all ages. The trail will take you through the Little Rouge Creek, up alongside the escarpment and by the wetlands.
When you reach the North trailhead, you can sit on a log and view the hill formed from a former garbage dump which is now being revegetated. From the South trailhead at Twyn Rivers Drive, you can see an old ski hill with a trail leading to the top and a concrete dam which used to back up to the river for swimming when a hotel was on the site.
Rattlesnake Point
You can visit Rattlesnake Point anytime of the year and will still be gifted with spectacular views. It is a well-frequented conservation region popular for hiking and rock climbing. During spring and summer, families can go geocaching to find real buried treasure! Geocaches are hidden all over Rattlesnake Point. In fall, you can see the stunning colours from the Buffalo Crag Lookout Point and the Rabbit Run and Vista Adventure. In winter, bring a steaming mug of hot chocolate with you as you explore the trails and birdwatch. During the colder months, you can see Chickadees and several species of owls.
Rattlesnake Point is located in Milton, Ontario and is owned by Conservation Halton. 12.7 kms of easy to moderate trails are available to explore. You can even do Yoga in the Park, as you surround yourself with fresh air and thousand-year-old cedars.
Bluff Trail, Awenda Provincial Park
Only a two hour drive north of Toronto and near Penetanguishere, Georgian Bay, is Bluff Trail. It's a family-friendly circular trail with one of the oldest growing deciduous forests in Canada. The trail is home to sugar maples, trilliums and more than 200 species of birds.
If you hike during the fall, Bluff Trail is said to have one of the best fall foliage displays in the province. In winter, the trail is popular for cross-country skiing and snowshoeing, and during the warmer months of the year, visitors can take a swim break at Georgian Bay beaches.
Happy hiking!
Top 9 Scenic Hiking Trails in Ontario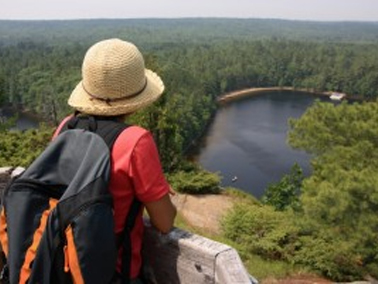 November 08, 2017
Ontario is home to many natural wonders from pristine trails to vast forested parks to tranquil lakes. Whether you're with family or by yourself, our beautiful province is filled with stunning landscapes and spectacular scenery.
These tips are provided for information and prevention purposes only. They are general in nature, and Desjardins Insurance cannot be held liable for them. We recommend using caution and consulting an expert for comprehensive, tailored advice.
In Quebec, Desjardins Insurance refers to Desjardins General Insurance Inc. In Ontario and Alberta, Desjardins Insurance refers to Certas Direct Insurance Company, underwriter of automobile and property insurance.