Skip to Content
Important
We're receiving a very high number of calls right now
To avoid the wait, you can file a claim, update your insurance and much more in your Online Services account.
null
null
Top Fall Driving Safety Tips
Falling Leaves
The colourful leaves we see in fall can make the roads slippery when they scatter and fall from the trees, especially when raining. The fallen leaves can also cover the visibility of road hazards such as traffic lanes or potholes. Parking near a pile of leaves can potentially cause a dangerous driving incident.
Wildlife-Vehicle Collisions
Fall is peak season for Wildlife-Vehicle Collisions especially during the early mornings and late evenings. Be sure to drive slowly in areas where deer crossing signs appear. If you do see an animal on the road in front of you, flash your high beams to alert them. The animal may back away if they see bright lights approaching them.
Sun Glare
Driving shortly before sunset and shortly after sunrise can make visibility difficult with the sun glare. Keep your vision clear by frequently cleaning your windshield, adjusting sun visors and investing in a pair of high-quality sunglasses you can leave in your vehicle.
Lack of Daylight
With the days getting shorter, most drivers will find themselves driving home from work in the dark. Drivers are strongly encouraged to be extra cautious, especially when the clocks "fall back" for the end of Daylight Saving Time. Make sure your vehicle's lights are in good working condition.
Frost
During fall months, the temperatures tend to drop overnight. This can create morning frost and icy patches on the roads. Increase your following distance and reduce your speed when adjusting to slippery driving conditions.
Fog
Cold fall mornings can be foggy and decrease visibility behind the wheel. Use your car's low beams to help you see the road in front of you. Be sure to watch your speed and be patient.
Tire Pressure
Check your vehicle's tire pressure frequently this season. Fluctuating temperatures can cause inflation levels to change drastically. Underinflated tires can make steering and handling your vehicle more difficult. Use a tire pressure gauge to check the pressure and be prepared to inflate the tires to the recommended PSI.
Get Ready for Winter
Around this time of year, it's a good idea to start preparing your ride for winter. This can be done by installing winter tires, replacing wiper blades, checking fluid levels and updating your vehicle's emergency kit for winter.
Top Fall Driving Safety Tips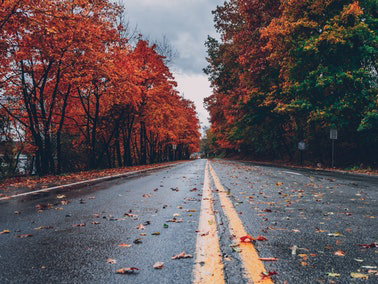 September 02, 2022
Hello, sweater weather! With canopies of changing leaves, fun hayrides, pumpkin farm visits and cozy nights, fall is a season full of adventure and comfort. It can also mean seasonal driving dangers such as slippery streets and wildlife encounters. Follow these fall driving tips to remain safe on the roads.
These tips are provided for information and prevention purposes only. They are general in nature, and Desjardins Insurance cannot be held liable for them. We recommend using caution and consulting an expert for comprehensive, tailored advice.
In Quebec, Desjardins Insurance refers to Desjardins General Insurance Inc. In Ontario and Alberta, Desjardins Insurance refers to Certas Direct Insurance Company, underwriter of automobile and property insurance.