Skip to Content
null
null
Understanding home insurance to get the coverage that's right for you
How do I know what home insurance I need? What does it cover? And how can I save on my premiums? Find answers to these questions and more in our home insurance primer. We give you the information you need, so you can choose the coverage that's right for you.
In this article:
How to save on your home insurance
Why get home insurance?
Home insurance isn't required by law, but your mortgage lender will probably insist that your house is insured. If anything happens, home insurance will cover the cost of replacing or repairing the building and contents, depending on the coverage, limitations and exclusions in your policy. For example, home insurance protects your property in the event of a fire or burglary. Home insurance also covers your liability if you accidentally injury someone or damage their property. For instance, you might need liability insurance if you accidentally damage your neighbours' property, if your dog bites a child or if your friend is injured after falling down the stairs!
And what if you need to relocate because your home is damaged? If you can't stay at home during the repairs, your home insurance can cover temporary accommodation and any additional living expenses. With this kind of coverage on your policy, extra expenses, like the cost of a hotel and eating out, would be covered.
Tip: Some insurers, including Desjardins Insurance, offer legal assistance and identity theft assistance services when you insure your home and your car. Remember to ask about this when shopping around!
Choosing the right coverage
Now you know why it's important to have home insurance, the next step is finding out how much coverage you actually need.
Tip: Make an inventory of your belongings using this form, developed by ChAD1 (an organization that protects the interests of insurance consumers). Writing down an approximate value for each item can help you figure out how much insurance coverage you need. Also, remember to take pictures of your belongings and keep receipts. This can make your life a lot easier if you ever need to make a claim.
Your insurance premium is calculated based on the type of home you live in and whether there's a fire hydrant or fire station nearby, as well as any previous claims for that address. And of course your premium will change depending on the coverage you choose and the value of your belongings.
The AMF2 recommends some steps when choosing home insurance
Work out the total value of your property
Choose the right coverage for your needs
Decide if you need extra insurance to cover valuable jewellery, for instance
Decide if you need extra insurance to cover exclusions, like sewer back-up
Decide on the deductible you'd be prepared to pay in the event of a loss
Types of coverage
There are two main types of coverage available to homeowners.
Named perils coverage
This type of policy protects you against the risks that are stated in the policy, e.g., fire, theft, vandalism, wind damage and certain types of water damage.
Tip: If your policy includes replacement cost coverage, any damaged or stolen items will be replaced by new ones, with no deduction for depreciation. As an example, let's say your five-year-old computer is stolen, with replacement cost, your insurer would cover the cost of a new computer of the same brand with similar features.
Property Damage Coverages - All-risk coverage
Unlike named perils coverage, which only covers certain risks, all-risk insurance generally covers most types of accidents. For instance, an all-risk policy will cover the damage if a lamp is knocked over and breaks or if you spill paint and damage the flooring.
Liability Coverages
As mentioned above, you can be held liable if you injure someone or damage their property. Most home insurance policies include coverage for personal liability.
Personal liability insurance provides coverage:
When you travel anywhere in the world
If you accidentally injure someone or damage their property
For legal fees if you're sued
Tip: Do you often travel abroad? In countries like the United States, you can be sued for considerable amounts of money. For just a few dollars, you can increase your liability coverage and travel with peace of mind.
Additional coverage
Depending on your needs, you might want to add optional coverage to your basic policy. According to the AMF, water damage is the most common type of claim in Canada.3 Most standard insurance policies have exclusions for water damage. They often won't cover damage caused by ground water seepage or sewer back-up.
You can choose from a number of coverage options:
Water damage: Ground water
Water damage: Above-ground water
Escape of fuel oil
Pool and hot tub
Earthquake
Tip: Read our prevention tips – they can help you avoid a lot of upset and disruption.
Your insurer can also offer additional insurance (called endorsements) for items that often have limited coverage on your insurance policy. These limitations might apply to all types of risks or only some risks, like when an item is lost or stolen. So be sure to tell your insurer if you own any of the following:
Animals
Garden tractors or lawn mowers
Watercrafts, engines or trailers
Bicycles and accessories
Banknotes or coins
Gold or silver
Jewellery or gemstones
Works of art
Software
Property used for a business
Tip: The items in this list will be subject to insurance limits, so talk to your insurer about whether you need extra coverage. Remember, don't choose your insurance based solely on the cost of the premium—choose the insurance that gives you the protection you really need.
Information to have on hand
Once you've chosen the coverage that's right for you, make sure you have the following information on hand when you call your insurer:
Postal code
Type of property (duplex, townhouse, single family home, etc.)
Year of construction and any renovations to the property
Building materials (roofing, siding, etc.)
Type of heating
Approximate distance from the nearest fire station (in kilometres) and the nearest fire hydrant (in metres)
Type of security system (alarm, fire sprinklers, etc.)
Insurance history
How to save on your home insurance
Once you've got your home insurance policy sorted out, you've done the bulk of the work. All you need to do now is keep it up to date, so your coverage continues to match your needs. It's important to tell your insurer about any changes, like renovations, a new pool or hot tub or if you buy an expensive bike.
Everyone wants to save on their insurance, but try not to focus just on price. Finding a great rate is fantastic, but not if the policy doesn't give you the coverage you need. Also keep in mind that your insurance agent's main role is to provide advice. They can give you tips on how to reduce your premium, so don't hesitate to ask!
Here are some of the factors that can affect your insurance premium:
The building you're insuring (construction date, type, location, building materials, etc.)
How close it is to a fire hydrant and fire station
The rate of crime and fires in your area
Your claim history
The type of policy and coverage you choose
The value of the belongings you're insuring
Your credit rating
Many of these are beyond your control, but there are things you can do to save on your insurance premium:
Insure your home and car with the same insurance company
Install a centrally-monitored alarm system
Tell your insurer about home improvements that lower the risk of a loss, like re-roofing or upgrading the plumbing, electrical or heating system
Increase your deductible—a higher deductible means a lower your premium. Just make sure you're prepared to cover that amount in the event of a claim.
Tip: Check if your insurer offers any home insurance savings.
Understanding home insurance to get the coverage that's right for you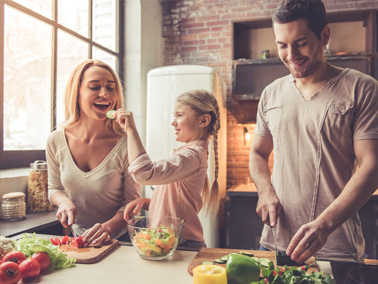 December 22, 2017
Just bought your first home? The next step is home insurance. If you've never had insurance, it's easy to feel overwhelmed by the sheer number of coverage options out there. But learning about insurance for homeowners can help you find coverage that's right for you.
These tips are provided for information and prevention purposes only. They are general in nature, and Desjardins Insurance cannot be held liable for them. We recommend using caution and consulting an expert for comprehensive, tailored advice.
In Quebec, Desjardins Insurance refers to Desjardins General Insurance Inc. In Ontario and Alberta, Desjardins Insurance refers to Certas Direct Insurance Company, underwriter of automobile and property insurance.