Skip to Content
null
null
You finally have your own car! Now, how do you get it insured?
In this article:
Insurance jargon explained
Let's take a quick look at some auto insurance terms:
Premium
This is the total amount you have to pay every year for the insurance coverage provided under your contract or policy. Your premium is calculated based on a number of factors, including your:
Car (make, model, year, value, equipment, etc.)
Home address
Driver profile
Insurance coverage
SAAQ driving record
Past accidents
Policy
This is your insurance contract. It specifies the coverages and deductibles you selected.
Deductible
This is the amount you have to pay if you file a claim with your insurer. This amount is selected ahead of time, when you buy your insurance policy. You can lower your annual premium by increasing your deductible—just make sure you'll be able to afford the deductible if you have to file a claim.
Loss
This term is used to refer to any type of incident (glass breakage, theft, car accident, etc.).
Settlement
This is the amount you'll receive if you have a loss (assuming the loss is covered). For example, let's say you have an accident, you're at fault, the damage totals $1,580 and you have a $500 deductible. When you file a claim, you'll first have to pay the deductible ($500) and then you'll receive the difference, for a total settlement amount of $1,080.
Using your parents' car insurance: A good idea or not?
"Piggybacking" on your parents' auto insurance policy might be the right choice for you—it all depends on your individual situation.
If you drive your parents' car
Whether you drive their car occasionally or every day, there are 2 very good reasons why your parents need to tell their insurer:
If you're listed as a driver, you'll build a driving history. This could help you save money later on when it's time to get your own insurance.
If you're not listed as a driver and you have a loss, it could be expensive. Your parents might not receive full compensation for the damages.
If you have your own car
If you have the budget for your own car, you should get an insurance policy in your own name.
Tips for shopping around for car insurance
Here's some advice to help you get the right coverage and save as much money as possible.
Compare prices
It probably won't come as a surprise that the price for the same insurance policy can vary a lot from one insurance company to the next. Get quotes from different companies, so you can compare prices and choose the one that's right for you. Provide as many details as possible about your driver profile to get accurate quotes.
Good to know: Premiums also vary for different vehicle models. For instance, it costs more to insure a sports car than a sedan. And it's also more expensive to insure a model that's on the list of the most frequently stolen vehicles. Before you buy a car, it's a good idea to get insurance quotes online to make sure you can afford the premium.
Compare coverages
When you compare quotes, make sure you're comparing apples with apples. Be careful—not all insurers offer the same coverages. Once you've made sure the same coverages are included in each quote, you can compare prices and make the right choice!
Key coverages to get the insurance you need
Here's an overview of the different types of car insurance coverage available.
Mandatory standard coverage
All drivers in Quebec are required to have civil liability coverage. It's included in all basic insurance policies. This coverage protects you if you injure someone else or damage their property in Canada or the U.S. The minimum coverage amount is $50,000, but most people choose $1 million. If you travel outside the province occasionally, we recommend increasing your civil liability coverage to at least $2 million, considering the high cost of injury claims.
Optional standard coverage
2 other types of standard coverage are available to enhance your protection:
This coverage protects you if your car is damaged in an at-fault collision or if it rolls over. If you don't choose this coverage and you have an at-fault accident, you'll have to pay for any damage to your vehicle yourself.
All perils other than collision or upset
This coverage protects you against fire, theft, vandalism, glass breakage and more. Again, if you don't choose this coverage and you have an incident (for instance, your car is stolen), you won't receive any compensation.
So, with the exception of civil liability, you're free to choose only the coverages you want. Here are some examples of other optional coverages that are available:
This option protects your used vehicle against depreciation for up to 5 years.
With this option, you can avoid a premium increase after your first at-fault accident.
With this option, you'll have no deductible to pay in the event of theft, vandalism or an at-fault accident.
It's up to you to decide which options are right for you. And if you decide against optional coverage, make sure you can afford to pay for repairs in the event of a loss.
Money saving tips
There are lots of ways to save on your vehicle insurance. For example:
Whether you're a student or working full time, you automatically save on your auto insurance in Young Driver savings.
If you haven't had any driving violations in the past 3 years, you can save up to 10% with our Zero Violations savings.
Sign up for usage-based insurance
The Ajusto® program takes into account your driving behaviour and habits to offer you a more personalized auto insurance premium. It's offered for free in our mobile app.
If you're 25 and under, get free Roadside Assistance®.
Be a loyal Desjardins Insurance client
We also reward clients for their loyalty. You can save:
You finally have your own car! Now, how do you get it insured?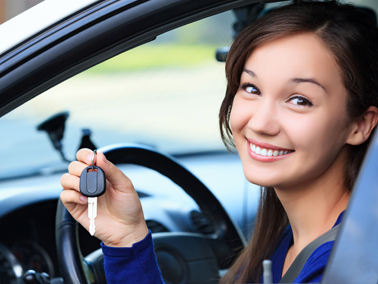 November 17, 2017
Are you the proud owner of a brand new driver's licence? Did you just buy your first car? This gives you a lot more freedom, but it also comes with responsibilities—like getting car insurance. Read on to get a better understanding of how insurance works and where to start.
These tips are provided for information and prevention purposes only. They are general in nature, and Desjardins Insurance cannot be held liable for them. We recommend using caution and consulting an expert for comprehensive, tailored advice.
In Quebec, Desjardins Insurance refers to Desjardins General Insurance Inc. In Ontario and Alberta, Desjardins Insurance refers to Certas Direct Insurance Company, underwriter of automobile and property insurance.